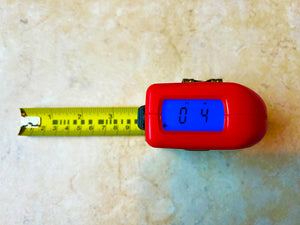 Welcome to eTape16.com!

The Best Digital Tape Measure in the World
From now until the end of the year if you order 3 or more eTape16's you will get 35% of your order!
The tape measure has remained virtually unchanged...until now!

FEATURES:
Large Digital Backlit Display


Hold
Holding a measurement on the display is helpful when you need to document each measurement you're making.


Memory
Memory allows you to store 2 measurements for you to recall later.


Midpoint
The Midpoint button displays the midpoint of your current measurement


Inside/Outside
The Inside/Outside button allows you to measure from the front of the device or the back of the device. When measuring into a corner measuring from the rear will include the device into the measurement displayed.


Select/Convert Units
This button allows you to measure in Imperial, Decimal, or Metric.


DESIGN:
⊛ 16', 1 inch blade
⊛ Durable, polycarbonate plastics
⊛ Auto shutoff, standard CR2450 (battery)
⊛ 64 hours of continuous usage
You're into gadgets. You love working in your shop. You constantly improve your home. You're precise in your work. It's time to buy the last tape measure you'll ever use. The large display makes it easy to read. Switching between imperial and metric helps reduce measurement errors and creates an easy way to convert between the two. Most importantly, eTape is the perfect teaching tool for the next generation.

Just like a calculator, smartphone, and computer make your life easier so does an eTape.